Chimney Flashing Repair Rockland County NY
Chimney Flashing: Shielding Your Home from Water Intrusion
Chimney flashing serves as a crucial barrier at the junction of a chimney and your roofline, safeguarding your home from unwanted water infiltration. This metal installation forms a watertight seal, preventing rainwater and runoff from seeping into your living space.
Our roofing teams are experts in water management and are well-versed in both roof repair and chimney flashing installation and repair. We are proficient with various popular flashing materials, offering Rockland County homeowners comprehensive chimney flashing repair services and specialized copper flashing solutions.
Regardless of the flashing material used on your home's chimney, proper layering is essential to keep water out and your roof reliably dry.
Understanding the Role of Chimney Flashing
Chimney flashing is essential sheet metal that seals openings where your chimney meets the roof, ensuring water stays out and directing it away from vulnerable spots. While various metals can be used, copper stands out for its durability, longevity, and classic appearance. We predominantly utilize copper in our flashing work due to its exceptional qualities.
Flashing Installation & Replacement in Rockland County
At George's Seamless Gutters, we're your trusted Rockland County roofing experts. With our extensive experience in roofing, we understand the vital role your roof and its components play in safeguarding your home from the elements.
One common problem area we encounter is chimney flashing. When homeowners call us to investigate minor roofing leaks, faulty flashing often emerges as the culprit. Chimney flashing has a straightforward but critical job: keeping water out and maintaining a watertight seal at the intersection of the chimney and roofline. When it fails, your roof and everything beneath it are at risk.
The key is to address flashing issues at the first sign of trouble. Delaying repairs leaves your home vulnerable to leaks and unwanted guests. Don't wait; protect your home with our expert flashing installation and replacement services in Rockland County.
Roof Flashing Repair & Replacement in Rockland County, NY
Regarding chimney flashing, we've got you covered in Rockland County, NY. Whether it's copper, lead, aluminum, or roofing cement, we install and repair all types of chimney flashing.
In Rockland, many roof leaks stem from improperly installed or damaged flashing. Rest assured, we're experts in proper flashing installation, utilizing only top-quality materials.
If you require chimney flashing repair in Rockland County, our experts are at your service. Count on us to address all your chimney and flashing needs with precision and care.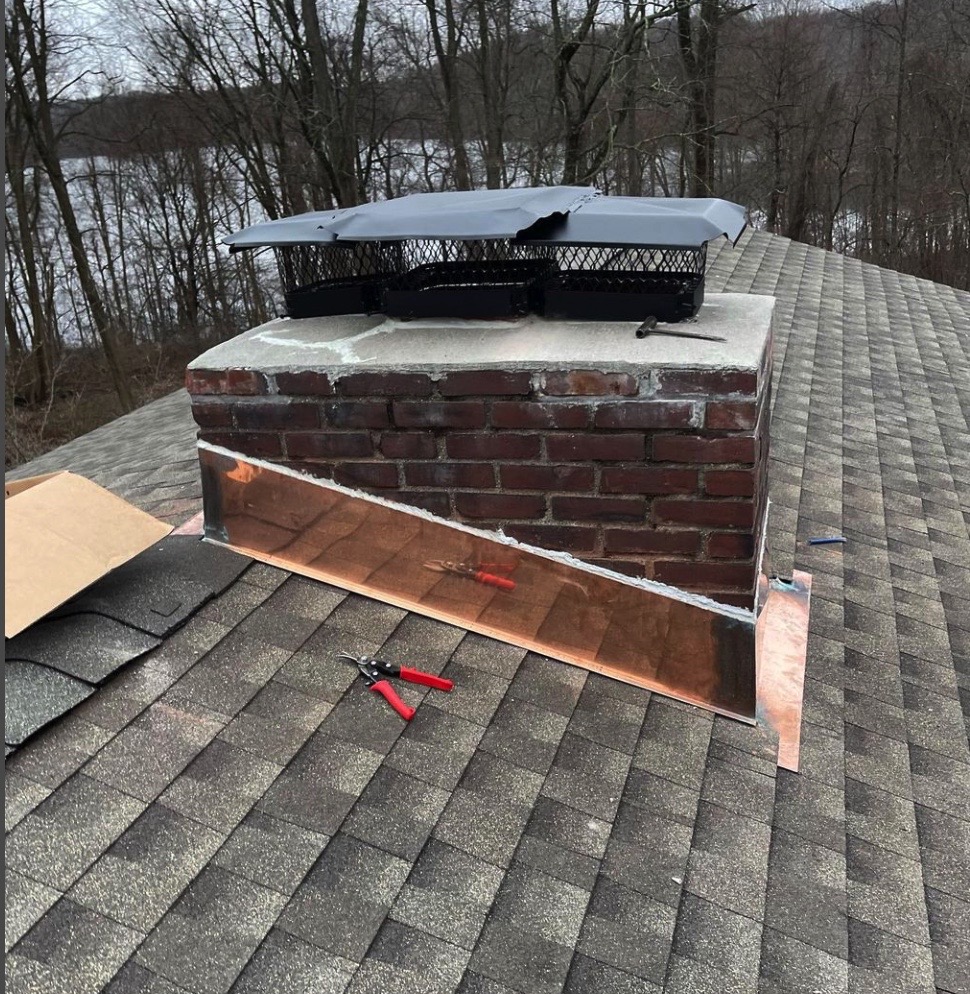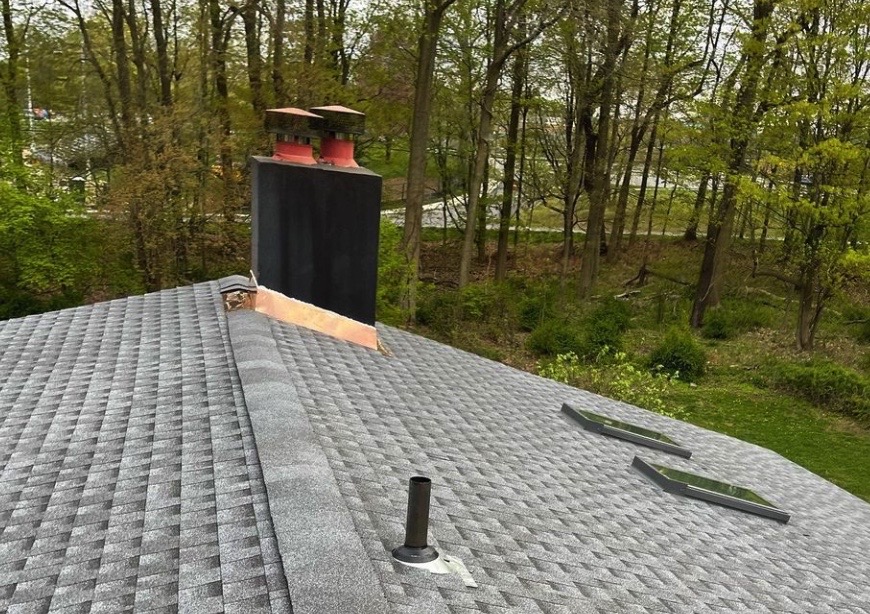 Chimney Flashing Replacement and Repair, Rockland NY
Have cracked, damaged, or leaky flashing?
Our expert chimney & flashing technicians are just a phone call away; we offer free inspections and are happy to come out and meet you.
What causes leaks around chimneys?
Here in Rockland, bricks and mortar both pass water and often lots of it. The problem here is usually the freezing and thawing cycle, which happens all winter long and results in damage in the house.
Is your chimney flashing in good shape?
You want to make sure your home is watertight and remains in excellent condition for years to come. You wouldn't be too pleased if you were to find water leaking in through the chimney, causing damage to the walls, ceilings, and other interior areas. Be sure to look for cracked, curled, or missing flashing around your chimney.
Not sure what to look for? We can come out and perform a free inspection.
Have a roof leak around your chimney?
DO NOT WAIT — Call a roofing contractor right away.
Roof leaks (even small ones)  need fast intervention to limit the damage. When considering how to address a flashing leak, the answer is simple; the time is now. There is no time to wait when it comes to leaks.