Downspouts & Leaders
Simply put, downspouts are vertical pipes that are used to divert rainwater and melting snow away from a building's foundation.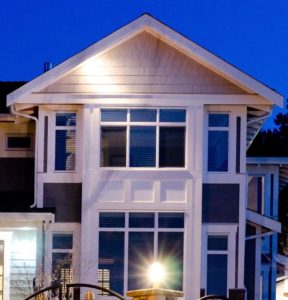 Home and roof designs vary greatly, which is why we offer a variety of gutter system design options including size, material and color to choose from, as well as a wide range of downspouts, hangers, wedges, elbows and miters. We customize each and every downspout to your project's exact needs so that drainage is safe and efficient for all four seasons.
While rectangular style gutters remain the traditional application, there are many options available for every style and budget. We'll work with you to design and choose what type of gutter would best suit your home or commercial building.
Our large variety of custom seamless gutter styles include; rounded and fully custom gutter designs, a rainbow of colors, and several metal finishes, including copper, stainless steel, galvanized steel and aluminum that range from sleek and modern to worn and patina.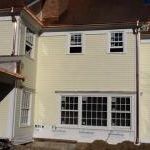 Gutters and downspouts should be chosen to match and compliment the home's style, trim color, and other accents. K-style gutters are designed to mimic colonial-style crown molding and half-round gutters in copper or steelwork well to blend in with the design and style of older homes, and they also naturally compliment rounded rooflines. Copper or lead gutter miters/medallions, as well as decorative downspouts, can add architectural details your home's exterior and work with the home's other design details, bringing the entire exterior of your home into harmony.
Our team at George's Seamless Gutters are true gutter experts installing copper, steel, vinyl, and aluminum seamless gutters in your choice of style and color. Because they're customized to each project, seamless gutter systems blend in and enhance the style of your home.
A properly installed and well-maintained rain gutter system will save you money over time in roofing, fascia, siding and foundation repairs that are caused when gutters are poorly installed, undersized for the home or placed incorrectly for proper drainage. They may seem like a small addition in the larger context of your home building or renovation project, but don't underestimate how much gutters and downspouts are responsible for keeping your roof secure and your foundation stable.
Contact us today to discuss seamless gutter and downspout options for your home or commercial building!
At George's Seamless Gutters honest advice and project estimates are always free!