Rockland County Gutter Repair + Cleaning Georges Seamless Gutters
At George's Seamless Gutters, we are proud to serve as Rockland County's seamless gutter care and gutter repair experts. Gutter repair and gutter care are important–there's no question about that.
→Having strong, healthy, free-flowing gutters is critical for the health of your roof, your home's foundation and your land.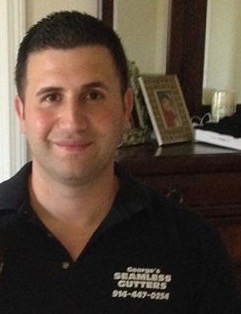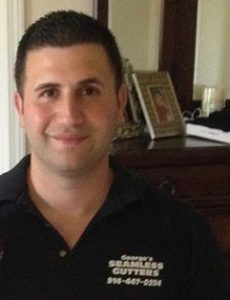 Gutter repair, as a term or practice is kind of an oxymoron. Gutters and their related components do not lend themselves to repair, not in the way you're likely thinking. Gutter repair, more times than not, is a gutter replacement. It's not a replacement of the whole seamless gutter system, though.
It is really very simple–we just replace the broken portion of your gutter that needs repair. When my team goes out for a gutter repair, we are also going out to help educate our homeowners about their gutter system and which part or section need a gutter repair or replacement.
Gutter repairs are not overwhelming! They are also not typically costly. We are not like other gutter companies. At George's Seamless Gutters, we treat every customer like family–I am not just saying that! I mean it wholeheartedly! My team and I take our time, assess your home, your gutter system and your needs, and then only suggest the gutter repair or gutter replacement that is right for you.
Gutter repairs are common in our area; because of our icy winters and hot summers–over time, the gutters on your home are going to need repair, and my gutter company has the tools and expertise to get the job done quickly and affordably.
Do you think you may need a gutter repair? Give my team a call!
Keep an eye on your gutter system. Gutters are secured to your home with spikes and ferrules. Over time, the area can warp around the spike, which may cause it to loosen. Once a spike comes loose, your gutter is in danger of falling and breaking.
Common warning signs that your gutters are failing:
Gutter hanging off of home/gapping at secure point
Downspout is disconnected, loose or leaking from gutter system
Water in basement/home
Leaking or dipping gutter seams
Gutters overflowing
Out of pitch gutters
Spike and ferrules pulling away from gutter system–look for the nail head to be coming out
Mold in areas before the gutter
Rotting deck boards, window sills or garage doors
Erosion or lines in landscaping
Cracking of sidewalks/driveways/stairs near home
Paint flaking prematurely near the foundation of home call us as soon as you see any of these warning signs, and we'll provide a free consultation and cost estimate to repair your gutter system.
We use high-quality materials, and some of our strongest gutter systems can last over thirty years! Gutter repair and replacement is an easy and affordable investment and will help keep your roof, foundation and land safe.
Whether you need your gutters cleaned out, are looking to install gutter guards, need to repair your broken gutter or are looking to install a new gutter system, call us! George's Seamless Gutters team prides ourselves on being the best, most professional gutter experts anywhere.