Aluminum Gutter Installation & Gutter Replacement
Get the right gutters for your Rockland County Home
Your Home's Drainage Solution: Gutters
Gutters play a pivotal role in your home's drainage system, managing rainwater and enduring the ever-changing seasons. As an exterior component, they are exposed to the elements and inevitably undergo wear and tear.
Eventually, all gutters will reach a point where repair or replacement becomes necessary. If you're considering gutter replacement for your Rockland County home, you'll find a wide array of material and style options.
Aluminum is far and away the most popular gutter material used by homeowners, but it is far from your only option; we install metal gutters in a variety of materials, including Galvanized Steel Gutters, Copper Gutters, Galvalume Gutters, and Lead Coated Copper Gutters, all available is standard 5-in and oversized 'large gutter' sizes. We also offer gutter guards for all the gutters we install, including copper gutter guards.
The right gutters will add beauty and value to your home.
Aluminum Gutter Replacement
We Provide Affordable, Reliable Gutter Replacement Service
For over two decades, George's Seamless Gutters has been your go-to source for top-quality aluminum gutter systems in Rockland County, NY.
Our aluminum gutters efficiently redirect rainwater away from your home's foundation, preserving your yard and interior. Known for exceptional customer service and unmatched craftsmanship, we offer a wide range of solutions, from complete gutter replacements to minor roof repairs. Rely on us to protect your property and keep it dry.
Recent Aluminum Gutter Installations:
Black Aluminum Half Round 6-Inch Gutter Installation, Scarsdale NY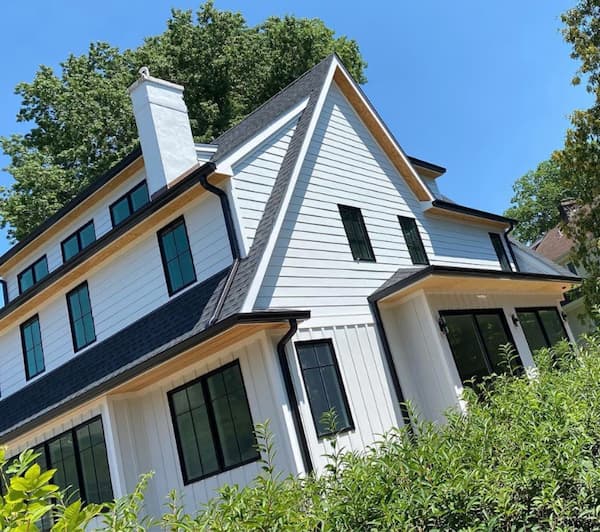 White Aluminum K-Style Gutters, White Plains, NY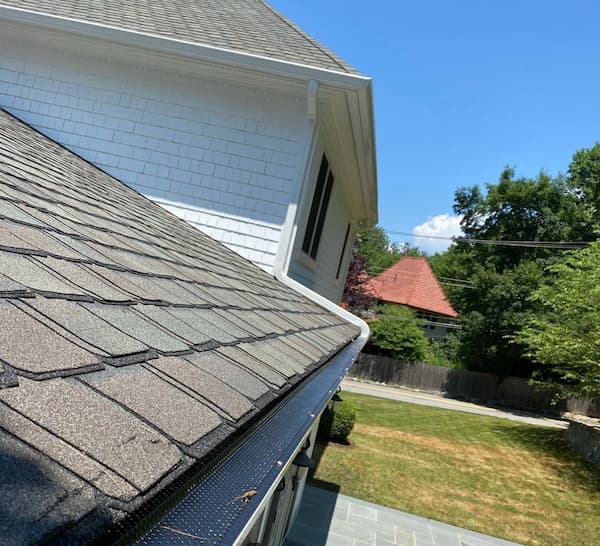 Gray Aluminum Half Round 6-Inch Gutter Installation, Harrison, NY
Black Gutters & Color Gutters Rockland County, NY
In addition to standard white aluminum gutters, we also offer Color Gutter Options for Aluminum gutter systems including the most popular gutter color for aluminum gutters black gutter systems.
Black gutters are more than a trend, they are a statement. Most gutter systems work to blend into the home but black gutters work to accent it.
We could be biased but we think professionally installed gutter systems are good-looking and interesting.
Why not show them off?
No matter the material, size, shape, or style. A well-functioning gutter system is essential for all homes. Mismanaged water is nothing to play with. Gutters when designed and hung properly do a great job of protecting your home and everything inside of it.
We have recently installed black gutter systems in 6-in half-round and K-styles.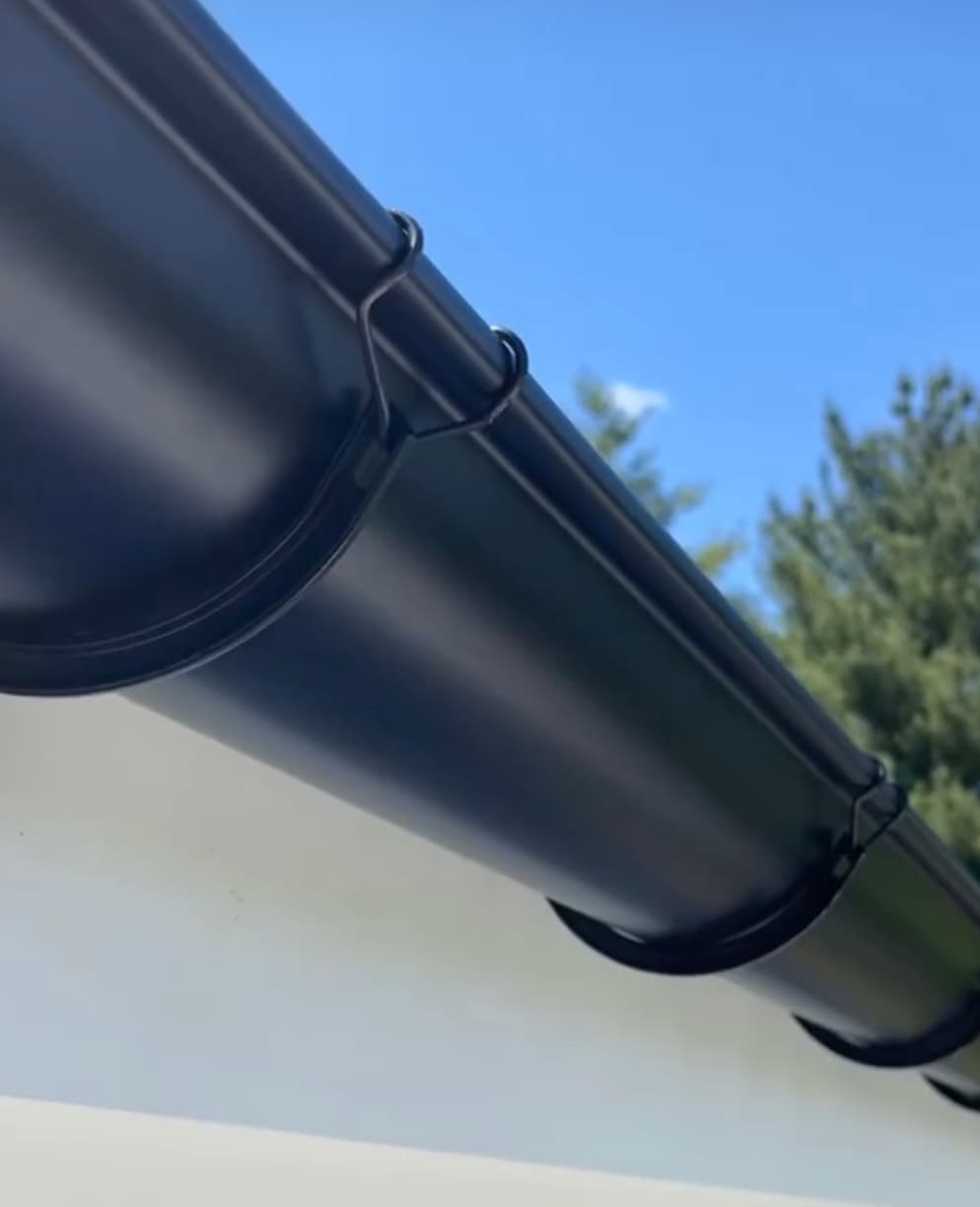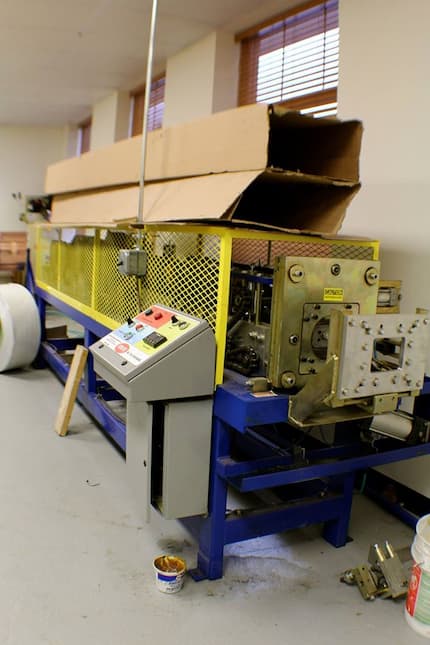 Seamless Aluminum Gutters
Discover the Benefits of Seamless Gutters:
Custom Tailored: Every gutter we install is custom-made to fit your home precisely.
Leak-Free Assurance: Precision matters; seamless gutters ensure a watertight fit, preventing leaks.
Time-Tested Popularity: Seamless gutters have been a trusted choice since the 1960s and continue to dominate the market.
Choose seamless gutters from George's Seamless Gutters for a perfect fit and lasting protection for your home.
What makes seamless gutters, seamless, and how are they made?
The gutters we make are made either at our Elmsford gutter shop or in the back of one of our mobile box trucks. Then no matter what type of seamless gutter system we are building are the two key components that make seamless gutters:
a large coil of metal in the desired color and,
a gutter machine that works to fold the metal into the desired gutter profile.
Seamless Aluminum Gutters
Having seamless gutters installed on your home is the best way to protect it from the worst of the four seasons.
Our Gutter Installation includes the complete design and installation of all necessary components to deliver each client the best butter system for their home or property. Including:
Gutters
Miters
Splash Guards
Downspout Extensions
Fascia Board/Rake Board/Soffit
Drip Edge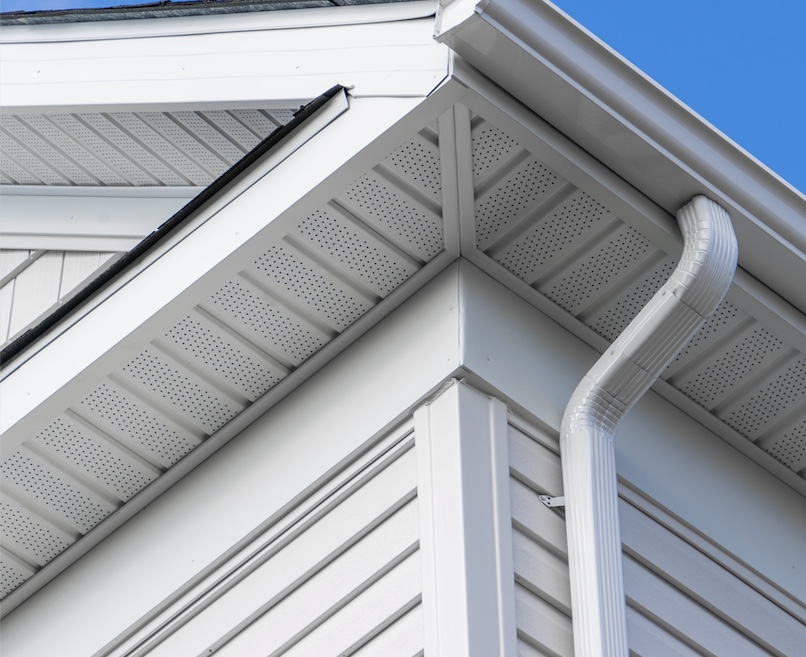 The parts of a gutter system
A gutter system typically consists of the following parts:
Gutters: The long, narrow channels that run along the roof edge to collect and channel rainwater.
Downspouts: The vertical pipes that transport the collected rainwater from the gutters to the ground.
End Caps: The fittings that seal the end of a gutter run, preventing water from spilling over the sides.
Elbows: The fittings that change the direction of the downspouts, allowing the water to be directed away from the building.
Hangers: The brackets that secure the gutters to the home or building, providing stability and support.
Outlets: These are the connection points where the downspouts attach to the gutters.
Miters: The fittings are used to join two sections of the gutter at a corner.
Splash Blocks: The flat concrete blocks placed at the base of downspouts distribute water and prevent erosion.
Roof Flashing: The material used to cover the joints between the roof and the gutter, preventing water from seeping through.
Gutter Screen or Gutter Guard: The material installed over the gutters to prevent leaves and debris from entering and clogging the system.