Copper Gutter Guards Rockland NY
Gorgeous and durable, highly efficient Copper Gutter Guards.
All gutter systems benefit from gutter guards, and copper gutters are no different. We offer top-performing, great-looking copper gutter guards in several styles. We are Rockland Gutter installation experts; we install more copper gutters each year than any other gutter team in the area. We also install some of the best-looking and highest-functioning copper gutter systems anywhere.
Copper Gutter Guards, like gutter screens made of mesh or aluminum, copper gutter guards work to help your gutters function properly. Gutter systems are only as effective as they are free-flowing.
Be it a large oversized copper gutter system or a standard 5-in system, the bottom line is gutters work best with well-fitting, properly positioned gutter guards.
Copper gutter guards will help keep your copper gutters clean and free of debris so they can operate at peak performance, taking water away and down from your roof and protecting its foundation.
On the top of the list is that gutter guards help your gutters function, down to less immediate benefits like reducing your gutter systems maintenance and gutter cleaning requirements.
Copper Gutter Guards: Frequently Asked Questions
Can you put gutter guards on copper gutters?
Yes, you can, and you do not have to worry about sacrificing the look of your copper gutters!
Who makes the copper gutter guards George's Seamless Gutters installs?
We do! Our copper gutter guards are custom; we build our copper gutter screens on-site to fit the existing guttering perfectly.
Many types of gutter guards are available on the market, but for copper gutter systems, you have to work with a copper gutter expert who will get it right. Copper gutters are an investment, and the guards you choose to protect them must fit them perfectly.
Will I see the copper gutter guards from the ground?
No! Our copper gutter guards are not visible from the ground. But they are so pretty you won't mind seeing them from a window.
What if I already have Copper Gutters? Can you still add Copper Gutter Guards?
Yes! We can install copper gutter guards on new or existing copper gutter systems.
When fitting copper gutter guards to an existing system, our installation teams make sure that no matter the gutter's size, shape, or style that the gutter guards are invisible from the ground and perfectly positioned to function as intended.
Having a well-functioning gutter system is essential in maintaining your home's structural integrity.
Gutters chronically clogged or overflowing are not good-looking no matter how lovely the material used in their construction is.
Known for our customer service, on-the-job efficiency, and workmanship, our copper gutter guards are a valuable solution even for homeowners worried if they will see the guards above the gutters I can assure you our copper gutter guards will NOT detract from the elegance of your gutter system.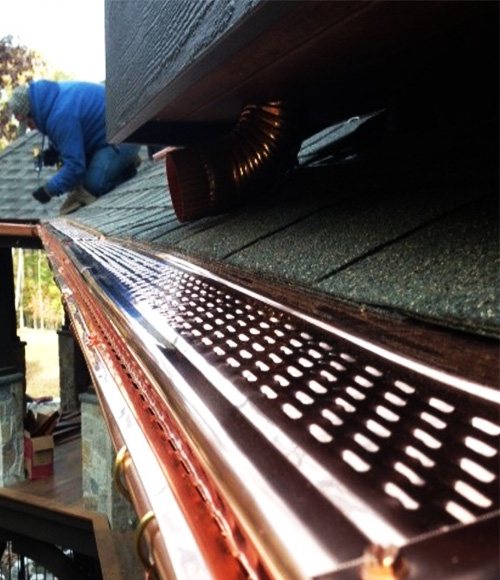 Copper Gutters: Copper Leaf Guards
To be clear, gutter guards reduce but do not eliminate the need for gutter cleanings. From time to time, you will need to have the tops of your gutter guards washed off if sticks and debris start to accumulate on top of the guards.
To this end, gutter guards help prevent leaves, debris, and other blockages from forming in your gutters, reducing the need for seasonal cleaning.
By choosing custom-fabricated copper gutter guards, you will enjoy the great looks and long-term functionality of a copper gutter system with the added convenience gutter guards provide.
Copper gutters are known to last for decades and are a popular choice for historic home restoration projects or for homes with high-end finishes.
Copper Guuter Guards you cant see from the ground.
Adding copper gutter guards to your home will keep your roofline looking clean. With gutter guards, your gutters don't clog, warp, or sag. The water flows freely, and your home stays beautiful.
Better still, come springtime, your gutter system will be able to properly handle melting snow, preventing damage to your siding, roof, or foundation.