Gutter Cleaning Spring Valley NY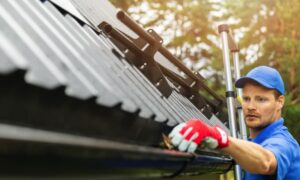 George's Seamless Gutters proudly offers Gutter Cleaning Services to home and commercial property owners in Spring Valley NY
Gutter Cleaning Spring Valley NY – The Spring Valley NY Gutter Cleaning team at George's Seamless Gutters is dedicated to the upkeep, gutter repair, and cleaning requirements of gutters through the four seasons including downspouts and gutter drainage systems.
We are proud to serve as Spring Valley NY's gutter cleaning and gutter repair experts. No gutter cleaning company in the Rockland County area knows more about home drainage, gutter installation, gutter repair, gutter guards and roofing services than we do and no one is better equipped to handle your gutter cleaning and repair needs than our team.
Spring Valley NY Gutter Cleaning & Repair
My Rockland County gutter company brings homeowners the opportunity to have their gutters cleaned, repaired or modernized with the addition of gutter guards with unrivaled confidence. We can say without hesitation that no one cares more about Rockland County's gutter systems than we do!
We have been working in the gutter business since 1999 and in that time we have perfected gutter services from installation to upkeep. We all know having strong, healthy, free-flowing gutters is critical for the health of your roof, your home's foundation, and your land. A breakdown anywhere within this water management system can have an impact on the health of your home from the ground up. Water can be very destructive if not managed properly. Contact my team today, for a free no-obligation gutter inspection, gutter cleaning quote or drainage analysis.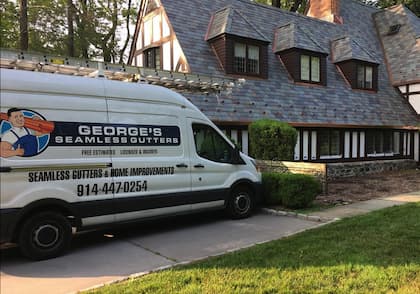 Gutter Cleaning Company Spring Valley NY
Our gutter cleaning services have been designed around the needs of the Spring Valley Rockland County home and business owners we serve.
Affordable and flexible Rockland gutter cleaning services are just a call or click away.
All Rockland Gutters — George's Seamless Gutters provide everything home and gutter system needs to stay healthy from the top down: we offer gutter cleaning, roof repair, roof replacement, and drain cleaning and clearing to ensure your home keeps water managed. Mismanaged water can cause costly problems quickly. We will ensure your gutters are clear and free-flowing.
Gutter Cleaning Spring Valley, Rockland NY
We offer a Flexible one-time gutter cleaning service
Free on-sight gutter inspections with every cleaning
Practical gutter cleaning contract options
Estimates can be offered right over the phone with surprising accuracy (thanks to Google Earth)
Gutter guards! Gutter screens and other custom options.
From our comprehensive ongoing gutter cleaning service contracts to our flexible next-day gutter inspection and cleaning calls; we invite Rockland County residents and commercial property owners alike to look to our Spring Valley, Rockland Gutter Company for all your gutter cleaning, repair, and care needs.
Spring Valley NY Gutter Cleaning Service
Spring Valley Rockland Gutter Cleaning: Our gutter cleaning services work to meet and address the needs of Spring Valley, Rockland County homeowners interested in doing all they can to protect their home and property from the dangers of mismanaged water.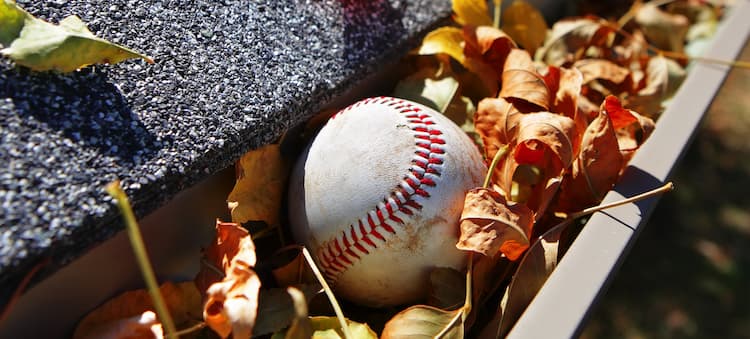 Gutter Cleaning Frequently Asked Questions
Question: How often do I need to clean my gutters?
Here in Spring Valley, Rockland, it is best to keep a regular gutter cleaning schedule. Because of all the wear and tear the four seasons put your gutters through, it is vital for your gutter system to deliver optimum performance.
Once in the spring and once in the fall is typically enough for most Spring Valley, Rockland County homes.
However, if your home is surrounded by trees you may need to clean them even more often.
Question: How do you know when your gutters need to be cleaned?
Your gutters should be cleaned regularly (but less often if you have gutter guards and screens). Waiting until they need to be cleaned is not advisable. By the time they need to be cleaned you may notice some areas where water is overflowing out of your gutters when it rains. Or that your downspouts may not have any water draining out of them. This means you have a gutter clog.
We recommend you schedule regular gutter cleanings so you don't have to guess when they need a cleaning.
Question: I already have gutter guards? Do they need to be cleaned?
The short answer is yes. Gutter guards are not a set-it and forget-it gutter solution. Even homes with gutter guards can benefit from having a gutter cleaning, the job changes a little of course, from a traditional cleaning to a gutter guard screen cleaning.
OUR GUTTER CLEANING SERVICES
ROCKLAND COUNTY COMMERCIAL GUTTER CLEANING
Business owners and property managers call on All Rockland Gutters – George's Seamless Gutters to keep their gutter systems running right year after year. Overflowing gutters can deter customers from coming into your store and may even be hazardous.
ROCKLAND COUNTY RESIDENTIAL GUTTER CLEANING
Our gutter cleaning services provide homeowners with a one-stop-shop solution for all their gutter cleaning needs. From seasonal clean-up to contract cleaning routines, our company is here to provide the gutter cleaning service that is right for your home or property.
GUTTER GUARD CLEANING
Even gutters with gutter guards require some form of gutter cleaning and upkeep to ensure they stay free-flowing. Today you can shop a wide variety of gutter guard solutions for your home or have our team craft a custom solution.