February 2017
What are Seamless Gutters exactly?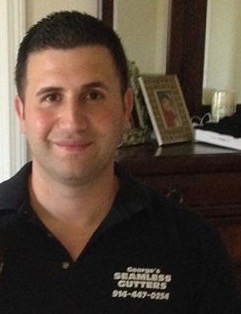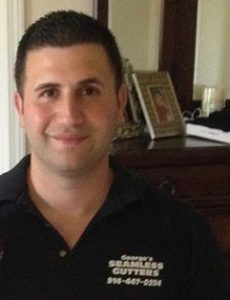 We get that question a lot, but don't worry! We're here to educate our customers and hope this article will help clear up the confusion. At George's Seamless Gutters, all our gutters are seamless and for good reason.
In the question of sectional versus seamless gutters, seamless gutters always win!
You may be wondering what the advantages of seamless gutters are, and how seamless gutters differ from sectional gutters.
Sectional gutters are exactly what you'd imagine. You buy sections of pre-made gutter, usually sold at a length of twenty feet long, and you cut them to fit.
Seamless gutters are each custom-made from metal coils for your home or commercial property. I use a gutter machine at my warehouse, or one in the back of one of my mobile box trucks to custom fit the seamless gutter to the exact length needed for each part of your seamless gutter system.
At George's Seamless Gutters, we're seamless gutter experts, and we're proud of it. We've crafted custom seamless gutters for friends, family and customers throughout Rockland County, Westchester Countand Fairfieldld County.
We get a lot of questions about seamless gutters, so we've compiled some of our most common questions. Of course, if you have any questions, or have a seamless gutter project in mind, never hesitate to contact us!
Q: What makes seamless gutters superior to standard gutters?
A: In regular gutters (sectional gutters), every seam has a potential to leaks. With seamless: no seams, no leaks. When you don't have leaks, water flows easily away from your home, which reduces the potential for water to pool around your roof or foundation. Our seamless gutters are stronger and their high-quality design ensures they can stand up to all four seasons. Whether it's winter's freezing temperatures, summer's blazing heat or a coastal storm–our seamless steel gutters are tough.
That's not to mention seamless gutters simply look better! Whether your seamless gutter material is steel, aluminum, copper or color aluminum gutters, we custom cut on-site to guarantee a perfect fit. Seamless gutters also blend better with the soffit and fascia of your home. You don't want your gutters to seem like an afterthought! We can hide gutters or make them pop, whatever fits your vision. Our gutters add a bit of curb appeal and they can even enhance the value of your home.
Q: What are our seamless gutters made from? How are they designed?
A: We have many seamless gutter materials to choose from including: Aluminum/Seamless Copper Gutters, Galvanized Steel Gutters, Color Gutters and Vinyl Gutters–all seamless.
All of our seamless gutters come in a long list of styles but most commonly K-style and round. K-style seamless gutters have flat backs and bottoms, the front side of the gutter normally has a decorative shape, such as a curve or ogee, that looks a bit like crown molding. Half-round seamless gutters are my personal favorite and are exactly that: half-round tubes made of any given gutter material. Half-round gutters often are found on older, historic homes.
Q: How do you attach the seamless gutters to my home?
A: Our seamless gutters are attached to your home on hangers, which are essentially invisible. Our high-quality hangers blend well with the seamless look of our gutters, and are stronger than the average spike and ferrule system. We also use screws instead of nails so you can bet those gutters are staying on your home once we attach them!
Q: What colors are available for seamless gutters?
A: We can paint your seamless gutters in any color you'd like. We'll coordinate the color with you and can match the gutter and the soffit and fascia system so that they'll blend perfectly and enhance the appearance of your home or complement it. Learn more about our color gutters here.
Let us know what other questions you may have! We love educating our customers on our seamless gutter systems, and we want you to make informed decisions without feeling pressured to buy. We're happy to discuss design options to find the perfect fit for your home and budget. Give us a call today!
---
December 2016
Parts of A Gutter System
When it comes to gutters, it's safe to say here at George's Seamless Gutters, we know a thing or two. We also know most folks take the gutters on their home for granted. Until there is an issue and your gutters are not functioning. Here are a few facts about gutter systems to help you decide what kind of gutters would be best for your home, or even what part of your gutter system you might need to repair.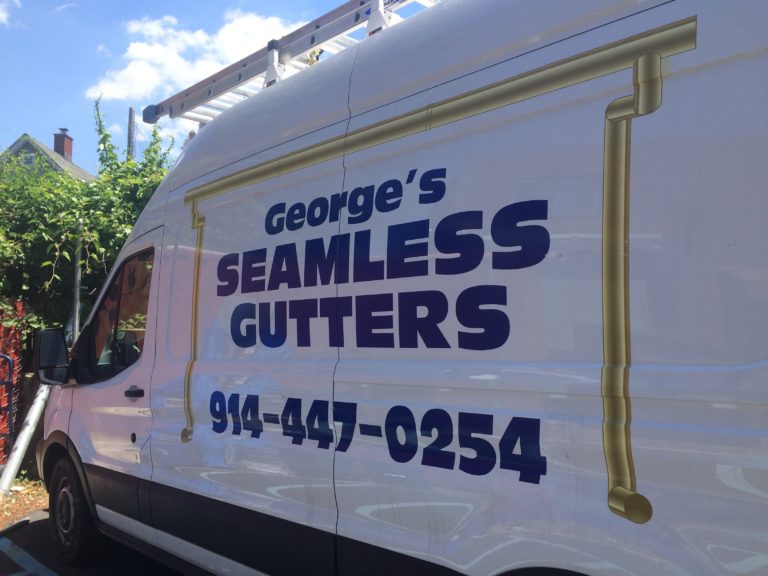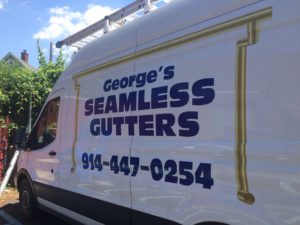 Though it may seem obvious, the entire purpose of a gutter system is to control the flow of water from your home's roof to the ground, preventing damage to your home's roof, exterior or landscaping, as well as ground erosion. Gutters keep dangerous built-up icy patches off your sidewalks in the winter and keep water from pooling around and becoming breeding grounds for insects in the warmer months.
There are many types of gutters for you to choose from to match and complement your home's facade, including box gutters and seamless gutters, which have more of an invisible appeal. Gutters come in many materials including vinyl, steel, aluminum and copper. Each material has its pros and cons, and we can help you decide which would be best for your home. Here in Putnam County, your gutter has to withstand freezing winters, heavy downpours and sweltering summers. We specialize in seamless aluminum gutters and copper gutters, which we believe stand up best to the unpredictable New York climate. We also offer color gutters!
There are four parts of a gutter system. First, a gutter is the horizontal section that acts as a catch for the water coming off of the roof. They are attached to the house with hangers. Because hangers are the aspect of the gutter system that bear the most stress, they're the most common part to repair.
Second are gutter downspouts. Downspouts are the pipes that lead the water from the gutter to the ground. There are many different sizes of downspout on the market, and the bigger the pipe, the more water the downspout will be able to transfer to the ground. It's important that the downspout can drain water quickly enough to keep your gutters from overflowing.


The third part of the gutter system is its drainage. This is where the water that comes off the roof, through the gutter, and down the downspout must drain. It's important to route the water away from your home to prevent any build up of water around your home. Proper drainage is imperative to keep your home and foundation from flooding.
Last, but certainly not least, are gutter guards. Gutter guards are screens or barriers that keep leaves and other debris from clogging your gutters, causing them to clog. Gutter guards are optional, but the benefits of having them are nearly endless. Gutter guards keep you from having to clean your gutters twice a year and allows your gutter system to work properly. It's a great investment to save you time, keep your gutters flowing, and prevent against damaging debris build up.
Contact us today to learn more about gutter repair, gutter installation and to answer any question you may have about the best gutters for your home or project.
I invite you to read our newest blog post,  Understanding Seamless Gutters a Q&A.