Do You Need Gutters?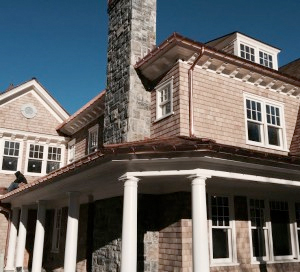 Every home needs gutters; at George's Seamless Gutters we understand every home is different, my team will take the time to work with you to understand the unique needs of your home and find the right gutter solution for you. All we do is install gutters – we take pride in gutter design, installation and when necessary custom gutter modification.
We are a different kind of gutter company. We are not a big name chain, we are a family owned and operated team we value integrity and work to treat every customer as if they were members of our own family. We take the time to understand your needs and shop gutter options with you. I hate showing up on jobs after the water damage is done. 9 times out of 10 – a proper gutter system could have stopped the situation before it started.
I created my gutter company to change the way Westchester, Rockland, Putnam and Fairfield County homeowners think about gutter companies and gutter installation. Gutters are important! They affect the health of your home and it's appearance few home systems play so many critical roles!
Nothing can do more damage to a home then misguided water. we commonly see damage on doors, door frames, decks, home foundations, sidewalks, driveways, to homes landscapes, siding, facia and roofing. The list could go on and on but this type of damage can be stopped before it starts for penny's on the dollar – all by investing in a proper gutter system. Gutters work to divert water, directing it off your roof, down aptly named down spouts and away from your homes valuable areas. George's Seamless Gutters provides complete gutter installation service including specialty copper and seamless gutter installation.
George's Seamless Gutters provides complete gutter installation service including: specialty copper gutter work, custom gutters, oversized gutters, radius gutters, k-style, half-round and seamless gutter guards for customers in Westchester County, Putnam County, Yonkers, NY and most recently Fairfield County Connecticut. George's Seamless Gutters is a family owned and operated professional gutter installation company located in Westchester County and Putnam County NY. We specialize in gutter installation and gutter replacement specifically. Our gutter installation experts are ready to help you determine what type of gutter system is right for your homes size, style and environmental needs Call us today!
Honest advice and estimates are always free! Give us a call (914) 447 0254 today.
K-Style gutters

K-style gutters have flat backs and bottoms, the front side of the gutter normally has a decorative shape, such as a curve or ogee, that looks a bit like crown molding. Note: many styles are available.

Half-round gutters

Half-round gutters are exactly that: half-round tubes made of any given gutter material. Half-round gutters often are found on older, historic homes.

---

Gutter Materials

Residential gutters are made from various metals, including:

Aluminum/Seamless Aluminum Gutters
Copper Gutters
Galvanized steel Gutters
Color Gutters
Vinyl Gutters

---

Gutter Leaders

A gutter leader (more commonly known as a downspout) – is the part of the gutter system that brings the water down and away from the gutter itself. We offer downspouts in many sizes depending on the needs of the gutter system.

---

Gutter Hangers

Gutters are attached to your home/structure by a mounting system known as gutter hangers. Together we will determine the right gutter hanger or mounting system for your gutter system.

---

We also offer many custom Gutter System Elements including:

Custom Leader Elbows
Gutter Wedges
Gutter Corners/Miters
Gutter Strip/Bay Miters
Conductor Heads
End Caps