Radius Gutters – K-Style or Half-Round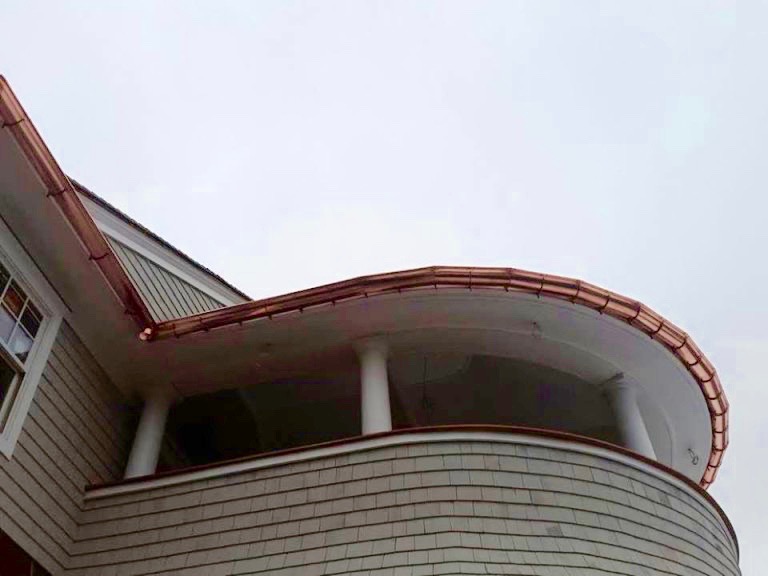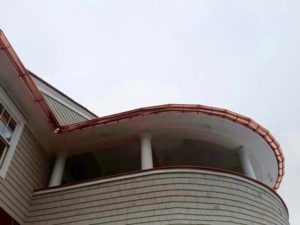 George's Seamless Gutters specializes in the design and fabrication of radius gutters in both copper and aluminum. Most commonly completed in the K-style or Half-round gutter profile, a radius gutter or curved gutter. Are you looking to learn more about having a curved or radius gutter installed on your home or to compliment a project you are planing? Call us now!
Radius (curved) gutters are one of our specialties – homes that have a nice feature like a turret room deserve to be treated with extra care particularly then they are in front of the home or positioned under another roof, draining water as many are.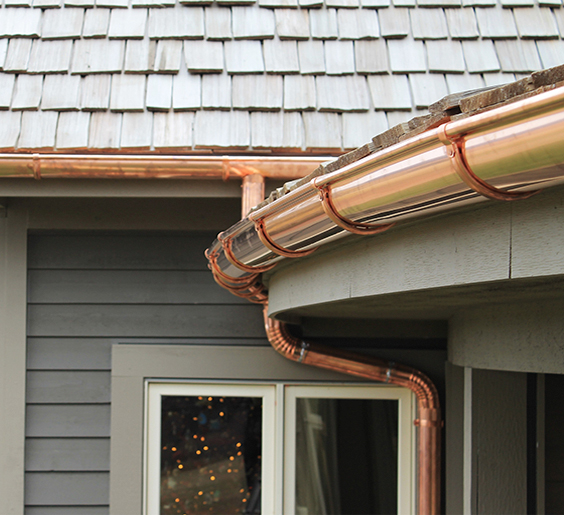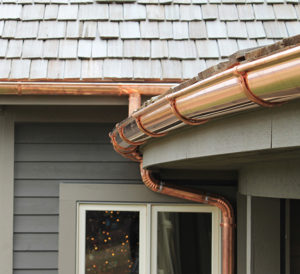 Looking for gutter guards? We have them! This is one time we feel safe saying when it comes to gutter guards we have it all! We know gutters are an important part of every home's maintenance and every gutter system is special.
Home size, roof type, location and age are all important criteria to consider when choosing a copper gutter system. We know nearly all there is to know about residential and commercial gutters and are ready to help you select the best copper gutter system for your home or business.
Look to my gutter installation company for the following services:
At George's Seamless Gutters honest advice and estimates are always free! Have a question? Give us a call (914) 447 0254.
K-Style gutters

K-style gutters have flat backs and bottoms, the front side of the gutter normally has a decorative shape, such as a curve or ogee, that looks a bit like crown molding. Note: many styles are available.

Half-round gutters

Half-round gutters are exactly that: half-round tubes made of any given gutter material. Half-round gutters often are found on older, historic homes.

---

Gutter Materials

Residential gutters are made from various metals, including:

Aluminum/Seamless Aluminum Gutters
Copper Gutters
Galvanized steel Gutters
Color Gutters
Vinyl Gutters

---

Gutter Leaders

A gutter leader (more commonly known as a downspout) – is the part of the gutter system that brings the water down and away from the gutter itself. We offer downspouts in many sizes depending on the needs of the gutter system.

---

Gutter Hangers

Gutters are attached to your home/structure by a mounting system known as gutter hangers. Together we will determine the right gutter hanger or mounting system for your gutter system.

---

We also offer many custom Gutter System Elements including:

Custom Leader Elbows
Gutter Wedges
Gutter Corners/Miters
Gutter Strip/Bay Miters
Conductor Heads
End Caps
Westchester NY – Gutter Installation Company